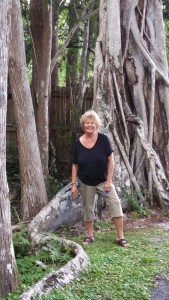 It seems that I have been a child of my time.  In the sixties, I left college, moved from Boston to the Lower East Side, volunteered at Dorothy Day's soup kitchen and read every written word available to me from the many used book stores in the neighborhood.  In the seventies, I became a radical feminist and co-founder of Kate Millett's Farm, a colony for women artists and writers in upstate NY.  A few years later, I became a student of bhakti yoga, the yoga of devotion, under the instruction of an Indian spiritual master and studied in India. These connections, made when I was young, continue to affect my life, daily living and thought today.
In the eighties, I returned to school and was awarded a Masters of Education at Bank Street College and a Doctorate of Philosophy at Columbia Teachers College.  I developed a friendship with Maxine Greene, of the Foundation for Social Imagination, who became the chief sponsor to my rather feisty dissertation called The Bachelor Mind, an attempt to dissect the tradition of male-only philosophers holding up the edifice of Western civilization.   A ten year stint teaching philosophy at Mount St. Mary College followed.
But it was in the nineties when I was deeply influenced by the environmental movement, most especially the view from the Hubble telescope, first launched In April 1990.  And I remember a video, taken in secret and previewed  at Kate's Farm, showing the burning of trees in the Amazon jungle with the tragic music of Wagner's Tristan und Isolde in the background. Provoked by the already stunning corporate indifference to the planet, I  began writing my essays, RAVINGS.
Just before my partner and editor, Joan Casamo, and I retired, took up tennis, and moved to Florida in 2006, we published our first book of RAVINGS called On A Planet Sailing West.
RAVINGS is savagely and lovingly edited by Joanie, who aspires to temper and shape my hysteria and despair into palatable prose.  She is the creator and technical master of this blog, and my companion in adventures spectacular and humble.
Magical background images are from a painting by the artist Jane Winter, Provincetown MA